This page presents my individual Aconcagua gear list. I developed it based on many good examples from experienced climbers and tested it personally during the expedition. I have added comments regarding some key items. In addition I am disclosing what I  had brought with me or left behind next time.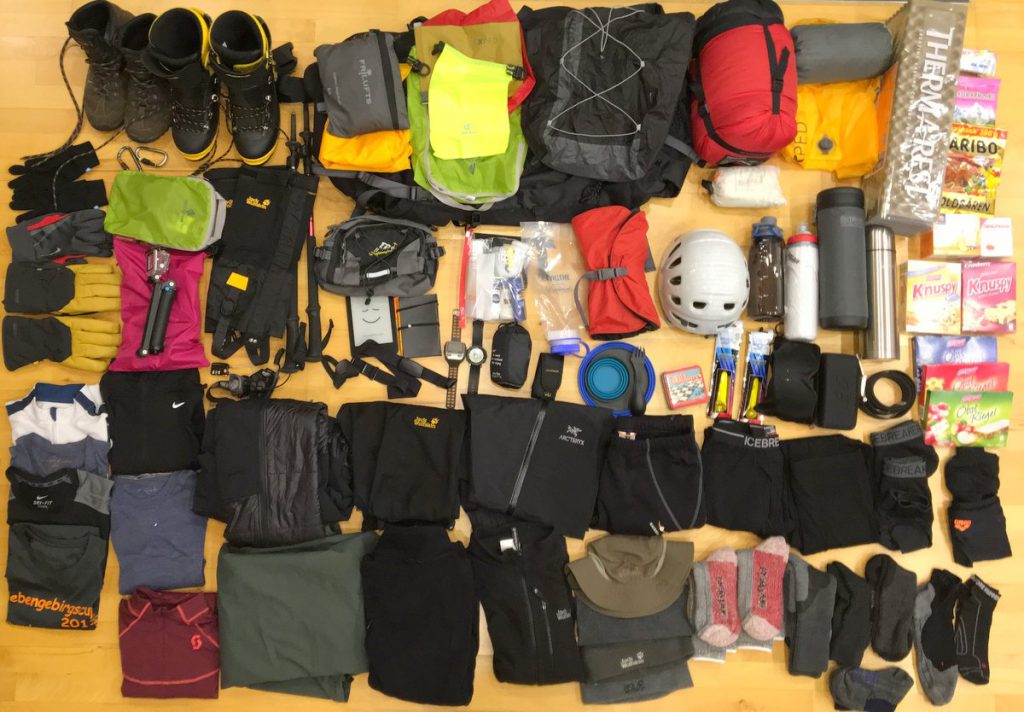 I rented most of high altitude gear in Mendoza
I am not a climber and did not plan to climb other cold mountains after Aconcagua. Therefore I decided to rent most of the high altitude gear like, double boots and warm sleeping bag in Mendoza. As it was recommended by my Aconcagua company I chose Chamonix Outdoor Equipment. All the other climbers in my group who had to rent something went there too. Thus renting gear was well embedded in the itinerary. We went there as a group with the guides right after they checked completeness of our gear in the hotel. (Gear rent in my Aconcagua documentary) As we went during high season I reserved the needed items at Chamonix via email prior arrival in Mendoza. Nevertheless they have been flexible and allowed to try and different sizes when available. I have been happy with the quality and cleanliness of the stuff. Initially I intended to rent the double boots as well but got an extraordinary good deal for the Asolo AFS8000.
All rented items are market blue in the list below.
Red items have not been used or were redundant.
Green items turned to be very useful or were missing in my original packing list

---
Feet
1 pair
Hiking shoes for approach
Meindl Vakuum Men Ultra
1 pair
Climbing boots
Asolo AFS 8000

1 pair

Crampons

Chamonix Rent

2 pair
Liner socks
GORE Essential Light Socks + Falke
3 pair
Wool socks
Falke TK4+
3 pair
Expedition Wool socks
FALKE TK 4 Expedition
2x Smartwool Extra Heavy Crew
I bought the Asolo AFS 8000 boots at home and had no chance to test them outside. This is the default model Chamonix Outdoor Equipment puts out for rent.  The first time I ever wore them was during acclimatization climb to Mt. Bonete (4.300->5.000m). As I have relatively soft hiking shoes and don't ski the hard boots were completely new experience to me. Surprisingly the only issue I had was relatively wet feet as I tried my summit socks during this warm day. But I have no other problems and was confident, that the following configuration will take me up to the top – so it did!
My tested Aconcagua summit socks and boots:
1) Very tight running socks as first layer (worn before)
2) Expedition merino wool socks Smartwool Extra Heavy Crew (brand-new)
3) Climbing double boots Asolo AFS 8000
4) Iron crampons rented at Chamonix Outdoor Equipment (worn during 2/3 of the summit push)
---
Legs
| | | |
| --- | --- | --- |
| 1 | Convertible hiking pants | Mammut Tempest Zip Off Plus Pants |
| 1 | Primaloft pants | Mountain Hardwear Compressor Pant |
| 1 | Gore-tex wind/rain pants with full-length leg zippers | Arc'teryx – Alpha SL Pant |
| 1 | Soft-shell mid layer tights | Kaikkialla Hannu Powerstretch Tight |
| 1 | Merino wool base layer | Icebreaker Apex Leggings w/Fly 260 |
| 2 | Merino wool briefs | Icebreaker Anatomica Briefs |
| 1 | Breathable briefs | Meru Mora Light Slip M |
| 1 | Swimming trunks | for the Hotel 🙂 |
red = not used
The Mountain Hardwear Primaloft Compressor Pant turned to be one of my favorite gear items. It served as perfectly comfy base camp pants and for all the climbs above base camp level.
My Aconcagua summit push layers for the legs have been
1) Icebreaker Anatomica Briefs
2) Merino wool Icebreaker Apex Leggings w/Fly 260
3) Mountain Hardwear Compressor Primaloft Pant
4) Gore-tex Arc'teryx – Alpha SL Pant
---
Body
2
Breathable T-shirt
running shirt
1
Breathable long sleeve
white Asics L2 Longsleeve running shirt
1
Light merino wool long sleeve
Scott Merino Wool 1/4 Zip
1
Heavy merino wool long sleeve
no name

1

Thick synthetic long sleeve

Nike Element Halfzip long sleeve
used only for sleeping

1
High Quality soft-shell jacket
Marmot – Zion Jacket
1
Light Fleece jacket
Jack Wolfskin Bardu Jacket Men
1
Warm fleece jacket
Jack Wolfskin

1

Expedition down jacket

Chamonix Rent

1
City clothes
for summer in Mendoza
red = redundant or not used
The weather during our approach was warm enough for t-shirt and shorts. However I personally used a white long sleeve (my favorite Asics running shirt) for better sun protection.
A merino wool base layer together with a high quality soft-shell Jacket (Marmot Zion Jacket) served well for all the climbs between the base camp and the high camp 3 (6.000)
According to the guides we enjoyed an extraordinary warm weather during the summit day mid of January. Temperatures were between -5°C in C3 and -16°C on top. I personally felt to warm with the rented down jacked and opend the zipper at the beginning. Finally I took it of for the final sunn and not windy ascent during Canaleta.
My Aconcagua summit layers have been:
1) Heavy merino wool long sleeve
2) Light Jack Wolfskin fleece jacket
3) Marmot – Zion soft-shell Jacket
4) Expedition down jacked (only partly with open zip before sunrise)
---
Head
| | | |
| --- | --- | --- |
| 1 | Light hat | Jack Wolfskin Supplex Vent Hat granite |
| 1 | Glacier Sun Glasses | Julbo Trek Cameleon |
| 1 | Nose sun protector attached to  sunglasses | Breitfeld & Schliekert (universal product) |
| 1 | Bandana | Buff |
| 1 | Fleece cap (fits under helmet) | Jack Wolfskin Vertiego cap |
| 1 | Ski goggles | no name product |
Because we had no heavy winds I did not use the goggles at at all.
The Bandana has been with me all time. For me it has been primary sun and dust protection. Next time I would take two Buffs.
The nose protector is a universal product attached with a velcro. It does not look sexy but worked well.
---
Hands
2 pair
liners
Polypropylene
1 pair
Lighter weight fleece gloves
my warm running gloves

1 pair

Goretex climbing gloves

Black Diamond Rambla Gloves

1 pair

Expedition mittens

Chamonix Rent


not used



The mittens were in my summit pack but I did not use them. My Black Diamond Rambla Gloves with some Polypropylene liners did the job even during summit night. By the end of first quarter of the summit push with a temperature around -8°C my thumbs started to freeze and I have been close to switch to the mittens. Than I started to move the thumbs and got them warm again. With the sunshine and -16°C on the summit I saw no need at all to wear the mittens.
---
Expedition gear
1

Ultralight Summit pack (90g/20l)

Sea to Summit Ultra-Sil Dry Daypack

1
Daypack, 35 l, stayed in base camp
Deuter Futura 32+4
1
Expedition backpack
Bach Backpack Specialist 1 (68l)
1
Duffle bag
110l Ortlieb Duffle
1
Fanny pack (for Gopto, etc.)
iTECHOR Fanny pack
1
Bottle Parker
Outdoor Research Water bottle Parka 2
1
Insulated water bottle
Camelbak Podium Big Chill 750ml
1

Wide mouth plastic water bottle

Camelbak Chute 1l

1
Thermos
La Playa High Performance, silver 1L
1 pair
Hiking poles
BLACK DIAMOND Trail Back
1
Climbing helmet
Edelrid Shield II

1

Ice Axe

Chamonix Rent –

not rented as per guides advise

1
Whistle for emergency
ACME whistle Tornado Slimline
6
Light equipment carabineers
Qxking aluminium 8cm + Elliot Micro 6
I have been happy with each and every piece listed above however I want to highlight 2 items I really loved:
The ultralight Sea to Summit Ultra-Sil Dry Daypack for the summit push really worked well. It did carry everything I needed not adding any extra weight. The 90g weight is only possible because it comes without any pads which you normally expect to be part of a comfy backpack. But under the circumstance where you have already several layers on you they were absolutely unnecessary. I have been able to attach the crampons to it or squeeze the down jacket into it.
The Camelbak Chute 1l spout is perfect for drinking without splashing water all over my face.
Although the Ice Axe was tagged as obligatory item at the end it has been up to the guide to decide if you need to take it or not. Luckily I new it early enough and did not rent/carry it. Also I did not miss it at any time – except for a cool summit picture maybe 🙂
---
Sleeping
| | | |
| --- | --- | --- |
| 1 | Down Sleeping Bag -35C – high camps | 1100g fill, Chamonix Rent |
| 1 | Light Down Sleeping Bag -7C – until BC | Mammut Kompakt Down Winter, 180R |
| 1 | Sleeping back silk Inlett | Quechua silk 205x85cm |
| 1 | Lightweight inflatable pad (-24C) | Exped AG DownMat UL 7 M |
| 1 | Closed cell foam sleeping pad | Therm-A-Rest Z Lite Sol |
red = not used
Most of the guys in my group had only one thick sleeping bag. I personally was lucky to have two. I generally don't need a lot of insulation while sleeping. As the temperatures in the base camp barely went below 0°C during nights I have been happy with my down bag with a -7°C comfort temperature. Above base camp the temperatures never dropped below -5 in the tent. Thats why the rented Expedition bag was more than sufficient.
---
Camp equipment
1

Pee bottle (colapsable)

Nalgene Canteen 1500ml

1
eBook
Tolino Vision 4 HD
1
Small towel
Meru Sport Towel
1
Mug
Sea to Summit X-Mug
Bowl
Sea to Summit XL-Bowl
1
Spoon & fork (2in1)
Light my Fire Spork


PLASTIC FAILED

1
Multitool
Leatherman SKELETOOL CX
10+
Cable ties
Diverse
8
Compression & transport bags
different sizes
5m
Cord
1
Duct Tape
not a new roll as to heavy
---
Personal Toiletries, Snacks & first aid
| | | |
| --- | --- | --- |
| 1 | Personal Toiletries | incl. wet wipes |
| 1 | Sage drops | helps to cope with light cough and dry air |
| 1 | Electrolyte Replacement | Elotrans powder |
| 30 | cereal & energy bars | my favorite bars from discounter |
| 250g | Haribo | gummy bears |
| 2 | Sunscreen | small containers (SPF50) |
| 2 | Lip Protection Sticks | 1,5 sticks used (SPF50) |
| 1 | 1st Aid Kit + Medicine | |
| 1 | Ear plugs | Ohropacks wax |
---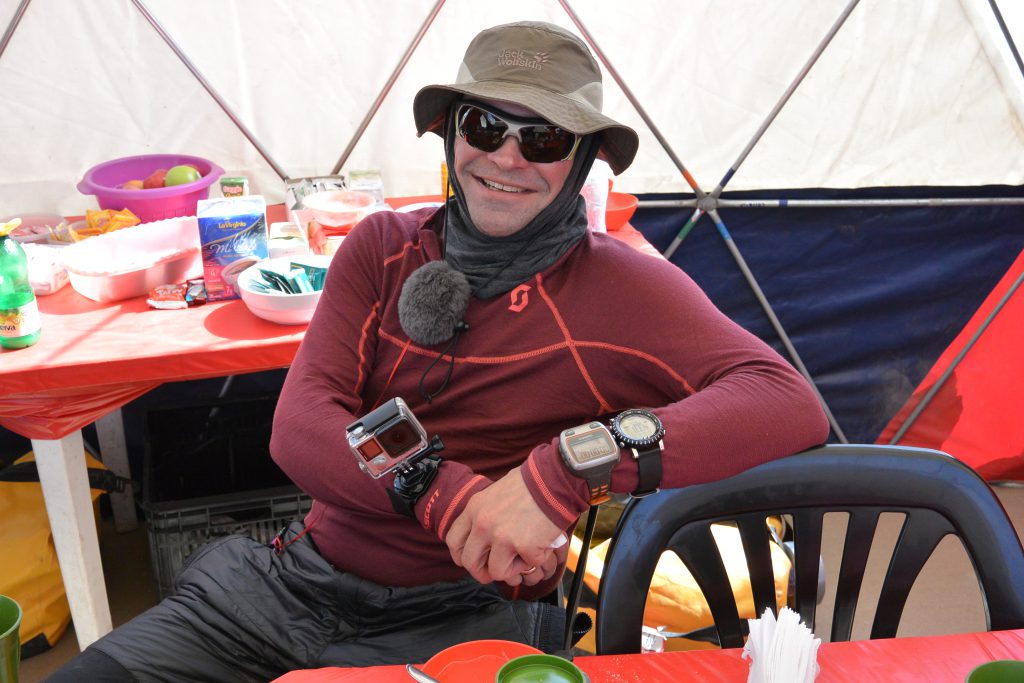 Electronics including camera equipment
| | | |
| --- | --- | --- |
| 1 | Outdoor watches with altimeter | Suunto Core |
| 1 | Sports pulse watch incl. heart rate chest belt | Garmin Forerunner 310XT |
| 1 | iPhone | iPhone 6S 64GB |
| 2 | Power bars | 21.100 + 14.000mAh |
| 1 | Solar charger | Anker PowerPort Solar Charger 21W |
| 1 | GoPro with 6 batteries | Hero 4 Silver |
| 1 | Wireless GoPro microfone | REMOVU A1+M1 Set + windshield |
| 1 | Timelapse moving head | Flow Mow 360° in 120min |
| 1 | Clamp tripod | very light (cheep plastic) no name product |
| 5 | Eyeglass cleaning wipes | for lenses and sunglasses |
| 1 | Headlamp with 3 AA lithium batteries | Petzl Myo RXP |
| 1 | Apple charger | 2,4AMps + 1Amp |
| 1 | Travel power adapter | for argentina |